The Covid-19 Mental Health Crisis
As we deal with the fallout from the Covid-19 pandemic, it's becoming increasingly clear that the U.K. is facing a mental health crisis.
There is increasing concern about the mental wellbeing of the nation as things such as isolation, loneliness and fear take a hold during lockdown. In England, the Centre for Mental Health has predicted that up to 10 million people – will need mental health support as a direct consequence of Covid-19, with 1.5 million of those expected to be children and young people under 18. And this means that our mental health charities, that have already had their income decimated  throughout the last 12 months due to a lack of fundraising activities are under more pressure than ever!
We want to help. Skydiving is an activity that was able to continue to operate, with COVID-Secure measures in place, throughout the majority of 2020. And we're calling on you, to sign up for a Tandem Skydive this new year, in support of one of the below charities, and help to raise some much needed funds to support the organisations on the front-line of this crisis.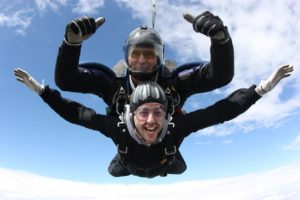 Skydive for Free!
Not only could you do something incredible for an amazing cause, but if you raise the minimum sponsorship amount, you could have your skydive costs paid for you!
Once you've chosen the charity you'd like to fundraise for, find your nearest airfield, and simply complete your booking and raise your airfield's minimum sponsorship amount – and your costs will be paid for you!

Samaritans
We know that life can be hard sometimes – That's why Samaritans is here for anyone who needs us. Whoever you are, whatever you're going through we can provide emotional support by phone, e-mail and face to face.
You may remember a time when you needed some support. A family member passed away, a friend was experiencing some difficulties with their mental health or a relationship ended suddenly. Life can change at any given moment and Samaritans is here to help get people through those difficult times. Last year, Samaritans responded to 5.7 million calls for help. The number of calls we receive is increasing all the time and we urgently need support.

Rethink Mental Illness
We improve the lives of people severely affected by mental illness through our network of local groups and services, expert information and successful campaigning. Our goal is to make sure everyone affected by severe mental illness has a good quality of life.

SOS Silence of Suicide
SOS Silence of Suicide offers support to anyone struggling to cope, for whatever reason, with their emotional health.
We began in 2015, following the deaths by suicide of family/friends/colleagues our founders, Michael and Yvette Mansfield. We work hard to eradicate the shame, stigma and silence surrounding mental health and suicide conversations. Our theme this year is Compassion in Society , encouraging kindness, understanding and communication.
Our telephone support line is open 7 days a week between the hours of 4pm and midnight and we also offer support through online meetings and meetings within communities (subject to Covid19 restrictions and guidelines)

Mental Health UK
With everything that has happened over the last year, Mental Health UK knows that the need for support with wellbeing and mental health is more urgent than ever before. 1 in 4 of us may experience a mental health problem at one time in our lives, but all of us will be affected by it in some way. A friend, a family member, a work colleague…You can help us to be there for everyone that needs it.
OTHER MENTAL HEALTH CHARITIES