NHS Appeal
The COVID-19 pandemic has changed all of our lives. Throughout, our National Health Service (NHS) have been on the frontline, leading the fight against this deadly virus. But now these heroes need your help!
The impact on the NHS has been profound. From practical issues, such as a lack of vital respiratory equipment, intensive care beds and personal protective equipment (PPE) – to the emotional toll on staff & volunteers working long hours in a highly pressured, high-risk environment.
The good news is that we have a way you can help. With a lot of uncertainty about when the fundraising events we love to participate in will return – Skydiving is an activity that was able to operate, with COVID-Secure measures in place, for the majority of 2020. and airfields are set to reopen soon. So if the ultimate adrenaline experience is on your bucket list – why not make this new year the time you tick it off, and raise money in support of the NHS while you're at it!?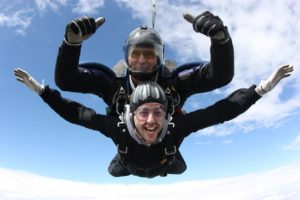 Jump for Free!
Not only could you do something incredible for an amazing cause, but if you raise the minimum sponsorship amount, you could have your jump costs paid for you!
Once you've chosen the NHS Trust you'd like to fundraise for, and found your nearest airfield, simply complete your booking and raise your airfield's minimum sponsorship amount – and your jump costs will be paid for you!